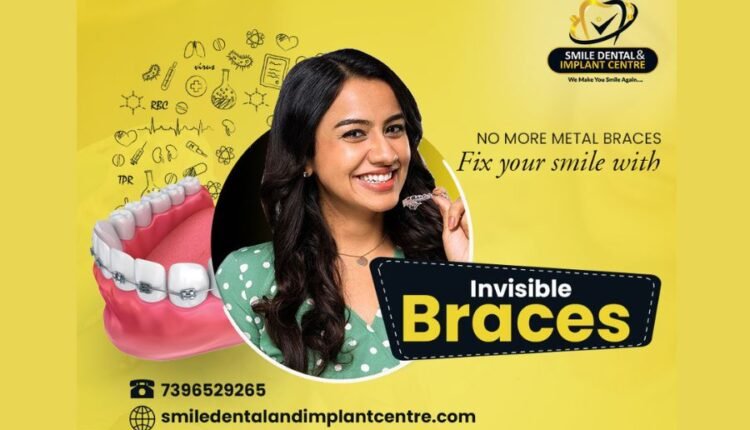 Smile Dental and Implant Centre shared the benefits of Invisible Braces over the Traditional Braces Treatment in a recently held Press Conference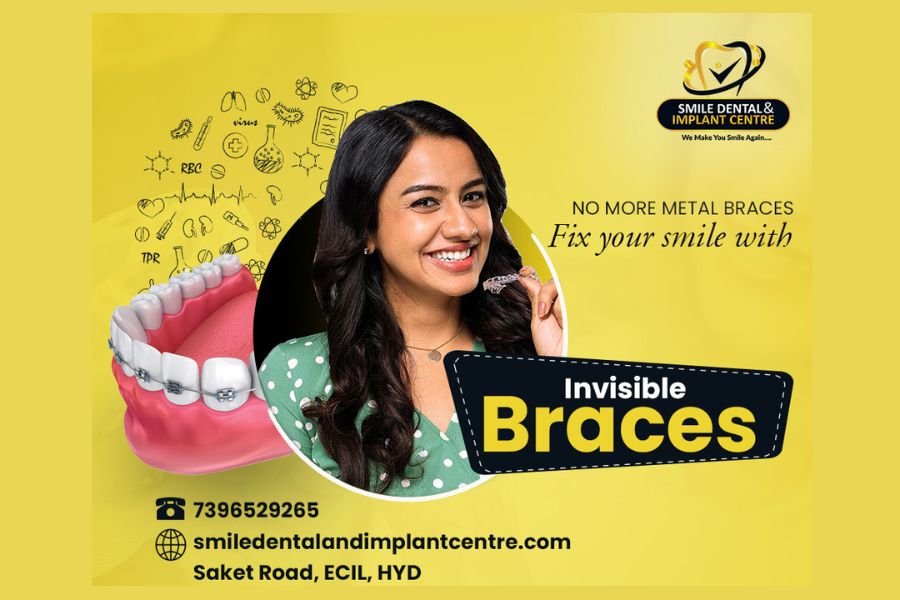 Smile Dental and Implant Centre shared benefits of Invisible Braces at a recently held press conference
 New Delhi (India), April 7: In a recent press conference, Dr. Puli Sudhakar MDS, The Director of  Smile Dental and Implant Centre (https://smiledentalandimplantcentre.com) gave details about
the advantages of using Invisible Braces or clear aligners over Traditional Braces Treatment. The purpose was to provide knowledge to the public about this amazing aspect of dentistry.
People avoid metal braces for teeth because they are noticeable. They may cause discomfort or irritation. Additionally, one has to follow food restrictions and require frequent adjustments. But all these problems are a thing of the past. The revolutionary Invisible Braces or Clear Aligners help you get rid of all such issues. At the press conference, the leading dental care centre that is Smile Dental & Implant Centre, explained in detail the advantages of these Invisible braces.
The spokesperson of the reputed dental clinic said that "Our clear aligners are customized for each patient. They are nearly invisible and are designed to gradually and gently shift teeth into their proper position. Patients who use these braces experience less discomfort and require fewer adjustments as compared to the traditional braces."
Dr. Puli Sudhakar, MDS, explains some of the important benefits of these braces. These teeth aligners are a discreet alternative to traditional metal brackets and wires. The best thing about them is that they are practically invisible. They are customized as per the patient's need. They provide a comfortable fit without any discomfort or irritation.
Moreover, aligners can be easily removed for cleaning or brushing. Also, they do not have any food restrictions. By correcting misaligned teeth, aligners can also help prevent periodontal diseases. These braces can also help reduce other issues like bite issues, mouth sores, and difficulties in talking or chewing.
He further added that "Correcting teeth alignment is very important, not just from the cosmetic point of view. But also from a dental health aspect. But people tend to avoid traditional braces due to the problems associated with them. This is the reason that we want more people to know about this groundbreaking product which can be a game changer in the dental health arena."
This renowned dental clinic in Hyderabad follows a highly systematic treatment process. This procedure was also explained by the expert of the clinic in the press conference. The dental clinic will schedule an initial consultation with a dentist based on the patient's condition and requirements.
Once the patient is prepared to proceed, our dentist will capture 3D visuals of the teeth using an intraoral scanner, which will be used to develop a personalized treatment plan. The plan will take into account the current state of the teeth and how they will move into proper alignment during the treatment.
Using the patient's treatment plan, the dentist customizes clear aligners to fit the individual's teeth. The aligners are designed to be worn every day. They can be removed for eating, brushing, and flossing.
The patient progresses through the treatment process by switching to a new set of aligners every 2 weeks. Every 3 months, the patient meets with the dentist to evaluate the progress. To achieve the best results, the aligners should be worn for 20-22 hours per day. Once the treatment is completed, the patient can enjoy their new and improved smile.
The best dentist near me shall tell me that these new braces are a great option for individuals who want to improve the appearance of their smile without the embarrassment of traditional braces. They are also a popular choice for adults who may have missed the opportunity to get braces during their teenage years.
Some patients may have cost concerns. But at our clinic in As Rao Nagar, Ecil Hyderabad, these invisible braces are available at cost-effective rates. As compared to traditional braces, the cost of the new braces is less, and the benefits are more.
For complete details about the treatment procedure, one can connect with Smile Dental & Implant Centre (+91-7396529265). This clinic has a well-qualified team of dentists who have years of experience. The clinic has state-of-the-art infrastructure and uses the latest technology and methods to treat dental issues.
So, if you are avoiding that precious smile due to crooked teeth, then it is time to visit this dental clinic right away.
About the Smile Dental and Implant Centre :
Smile Dental and Implant Centre is a leading provider of dental services, offering a wide range of treatments to patients of all ages. Dr. Puli Sudhakar MDS is one of the best dentists in Ecil, AS Rao Nagar, and he is committed to providing the highest quality, best dental care and is dedicated to helping patients achieve optimal dental health. This dental clinic has the best facilities and offers a wide range of dental treatments to patients at cost-effective rates.
If you have any objection to this press release content, kindly contact pr.error.rectification[at]gmail.com to notify us. We will respond and rectify the situation in the next 24 hours.