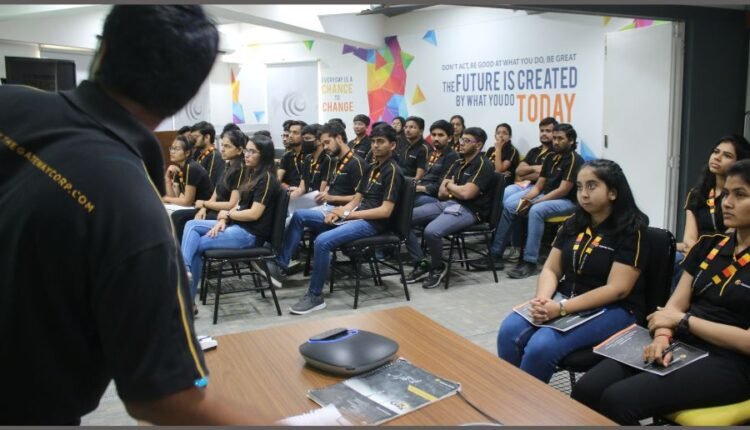 India's biggest IT challenge
The Great Indian Gap: Engineering curriculum Vs Job requirements
New Delhi (India), February 19: It takes almost 9 months for an IT company to onboard an IT professional till they pick up the pace in their job roles. The education curricula lack the synergy to equip students with practical learning concepts.
In spite of several IT & Computer Engineers graduating from universities every year, there is always a dearth of proficient IT talent that can handle client projects independently. Especially handling foreign clients.
Niraj Gemawat, CEO and Founder of The Gateway Group, one of Gujarat's biggest homegrown IT companies, says, "the problem can be summed up in simple words as a disparity in Learning Vs Doing. Any reduction in the gap will give the country considerable leverage in delivering IT solutions to the world."
Senior IT Professional Vilas Nagar says, "Local IT companies end up with huge investments and facing hefty loss recruiting and upskilling professionals. While star students from top universities get an opportunity at MNCs and leading corporates that offer huge packages and perks, local companies have at their disposal students who may or may not be very proficient and those from newly established engineering colleges. Additionally, there is a gap in soft skills, communication, and problem-solving. This gap needs to be honed if India is to take the lead in closing the IT staff deficit. While technical skills are important, these soft skills are becoming increasingly valued in the IT workforce."
"It is vital for educational institutions to adapt their curricula, keeping up pace with the changing needs of the IT Industry, in order to ensure that future employees are well-equipped to meet the demands of the job market. In fact, most universities' curricula take years to update, while technology advances almost every day on this small planet," Vilas adds.
According to Dr. Nirav Bhatt, Head of the department at R.K. University, they have been trying their best to meet the industry requirements after talking with industry professionals and getting their feedback. However, working inside the classroom and on real-time projects are quite different to each other and require the student to grasp the new intellect required as they graduate from one level to another. In the current scenario, most companies train students at their cost for at least 6 months during the last semester of the curriculum. The students are able to work for the clients only once they successfully complete the training. "I have noted that students working with companies who service foreign clients, especially in the US and European countries, are able to gain more exposure and future growth," he says.
Gemawat, who leads Ahmedabad-based Software Engineering Company Gateway, which services 20 Global Fortune 500 clients through its offices and development centres in 30 countries, says, "to address these gaps, it will be important for the GenZ's entering the workforce to continually invest in their education and skill development, as well as for employers to provide opportunities for training and professional development. Universities should try and work in close coordination with IT companies and explore more ways for students to get industry exposure from the time they complete two years of the curriculum."
Industry trends indicate one of the key areas that are likely to see a gap in the field of technology is artificial intelligence and machine learning. As these technologies become more widespread, there will be a growing demand for employees with advanced skills in these areas. This will require universities to update curricula more frequently.
Another area where the skills gap may emerge is cybersecurity. As cyber threats continue to evolve, there will be a growing need for experts with advanced skills in protecting against these threats and responding to and mitigating the consequences of attacks.
If you have any objection to this press release content, kindly contact pr.error.rectification[at]gmail.com to notify us. We will respond and rectify the situation in the next 24 hours.