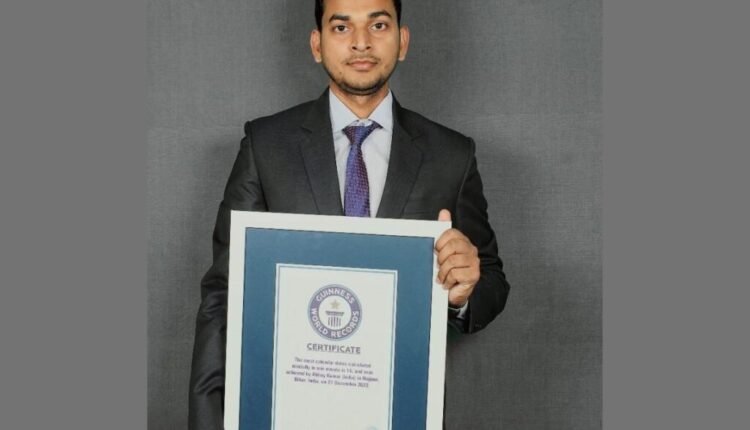 Abhay Kumar, Founder of Aspirant Jet, Trains Over 5000 Students in Memory Improvement Techniques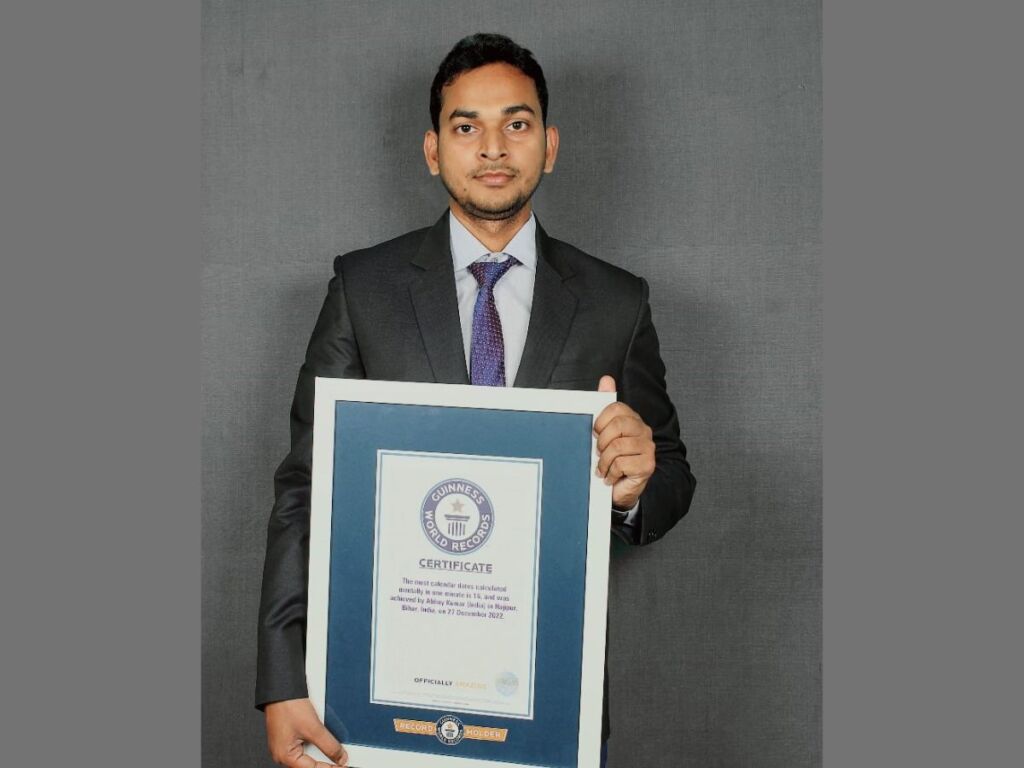 New Delhi (India) May 24: Abhay Kumar, a memory expert and the founder of Aspirant Jet, has achieved a remarkable feat by setting a Guinness World Record for the fastest answering of calendar dates spanning over 10,000 years. His incredible memory skills have also earned him recognition in the India Book of Records and the Asia Book of Records for answering the maximum number of calendar dates, including an impressive 1 lakh years.
As an educator and memory trainer, Abhay Kumar has made a significant impact on the lives of thousands of students. His dedication and expertise have enabled him to train over 5000 students in memory improvement techniques through his App and website called Aspirant Jet.
Hailing from Ghazipur in the Desari block area of Vaishali district in Bihar, Abhay Kumar has demonstrated an exceptional ability to recall and provide accurate information about various calendar dates within a matter of seconds. This extraordinary talent has garnered him well-deserved accolades and has firmly established his name in the India Book of Records. In a special ceremony, Dr. Biswaroop Rai Chowdhary, the Chief Editor of the Book of Records, presented Abhay Kumar with the prestigious India Book of Records award, acknowledging his remarkable memory skills. Abhay's ability to remember calendars for more years than Google has impressed the experts and judges. In a display of his incredible speed and accuracy, he answered questions about 23 different dates in just four minutes.
To attain this extraordinary record, Abhay had to undergo several stages of rigorous online testing, which he successfully cleared. While Google can provide the calendar day for only 10,000 years at a time, Abhay's astounding achievement lies in answering calendar dates spanning an astonishing 1 crore years. With his name firmly cemented in the India Book of Records, Abhay Kumar has set a prestigious Guinness World Record for mentally calculating 16 calendar dates in just 1 minute.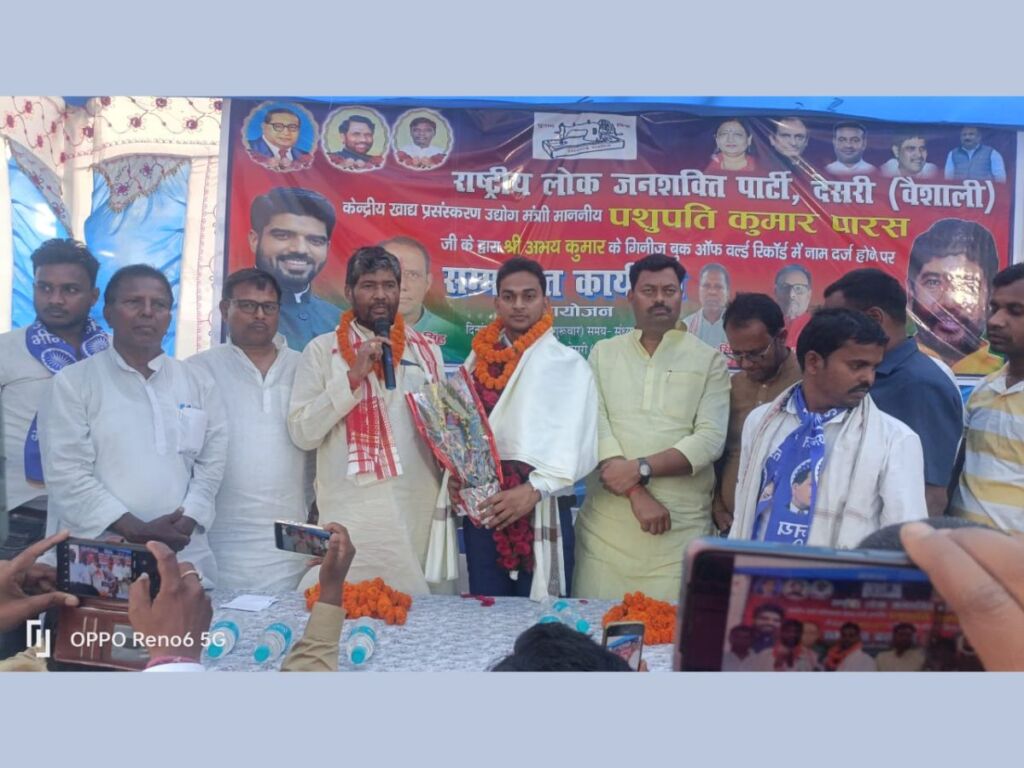 Abhay Kumar's journey to becoming a memory expert and educator is equally impressive. He completed his B.Tech in Mechanical Engineering in 2016 but turned down a job offer from the Indo-German Automobile Company. Instead, he chose to pursue a career in teaching, starting at the Motihari Polytechnic College, where he spent four years imparting knowledge to aspiring individuals. Driven by a passion for helping others unlock their memory potential, Abhay Kumar embarked on a mission to create his app, Aspirant Jet. This innovative platform provides top-quality memory improvement training to students of all backgrounds, ranging from class 6 to those preparing for the UPSC exams. With Aspirant Jet, students can learn practical techniques and strategies to enhance their memory, recall information effortlessly, and retain knowledge effectively.
What sets Aspirant Jet apart from other memory trainers is its emphasis on visual mnemonics, a technique that has been proven to be ten times more effective in memory retention. Through the app, students can remember historical dates, articles, general knowledge, mathematical formulas, and various new techniques instantly. Additionally, the app offers free tests and mind maps, further enhancing the learning experience for its users.
Born on August 15, 1992, in Gajipur, Vaishali, Bihar, Abhay Kumar's journey from a mechanical engineer to an esteemed educator and memory trainer has been nothing short of remarkable. His father, Sahendra Paswan, is a teacher, and Abhay remains single, devoting his time and energy to his work and the betterment of his students. Abhay currently resides in Gajipur, Vaishali, Bihar, and is proud of his Indian citizenship and Hindu heritage.
Abhay Kumar's dedication to his craft and his commitment to helping students reach their full potential has not gone unnoticed. Recently, he was felicitated by the Honorable Minister Pasupati Kr. Paras, the Minister of Food Processing Industries of India, further highlighted his contributions to the field of memory improvement and education.
For more information or to get enrolled visit http://aspirantjet.com/.
If you have any objection to this press release content, kindly contact pr.error.rectification@gmail.com to notify us. We will respond and rectify the situation in the next 24 hours.